Winged helmets, fur-trimmed tunics, flaming torches and rousing music – the people of Shetland are certainly a fiery lot and know how to throw a party. I sincerely doubt that anyone, even the locals of the windswept Shetland Islands, would call January a bleak month for that very reason.
Taking place annually on the last Tuesday of January in the town of Lerwick, the Shetland's Viking Fire Festival, or Up Helly Aa as it's known locally, is the largest event of its kind in Europe. Thousands of visitors from across the world travel to this northernmost corner of Scotland to join in this Scandinavian Vikings' style celebrations of the end of winter and the return of the sun.
This isn't your usual subarctic merrymaking, nor is it just another bonfire to lighten up the long, dark winter sky. The islanders stage their annual festival to commemorate the Vikings who once occupied and ruled this land over a thousand years ago for around 500 years before it became a part of Scotland in 1468.
Expect to see a crowd of the latest generation of 'Vikings' dressed in sheepskins, carrying axes and shields, and bearing torches as they snake through the town streets to the rousing music of traditional Up Helly Aa songs struck up by a brass band. Headed by the Jarl Squad, the parade's leading group, the procession pulls behind a lovingly made, life-size replica of a traditional Viking longboat, complete with its dragon's head prow, to the burning site where it's later set aflame by fiery torches hurled into its hull and left ablaze on the water. Then, as the galley is being destroyed by the inferno, the crowds sings The Norseman's Home – a stirring requiem that can break the heart of even the hardiest of Vikings, bringing tears to the eyes, after which the guizers and spectators disperse to local halls to dance the night away.
It'll be a fast and furious night, that I can tell you for sure. The event is a visual feast like none other and makes even the carousing of Guy Fawkes Night seem a bit tame. Nothing has yet managed to stop the Up Helly Aa's guizers from celebrating – including gales, heavy rains and even snow – and this year should be no different.
Lerwick Up Helly Aa
Last Tuesday of January (28th January 2014)
Rural Shetland Up Helly Aas
If you've only just learned about this fantastic festival and are travelling to Shetland later in the year, don't worry – the months of February and March will see plenty of smaller fire festivals throughout the islands. They may vary slightly in custom, but all embrace the islands' Viking past and involve setting Viking longships on fire.
Nesting & Girlsta Up Helly Aa – 10 days after Lerwick festival (7th February 2014)
Uyeasound Up Helly Aa – Second Friday of February (14th February 2014)
Northmavine Up Helly Aa – Third Friday of February (21st February 2014)
Bressay Up Helly Aa – Last Friday of February (28th February 2014)
Cullivoe Up Helly Aa – Last Friday of February (28th February 2014)
Norwick Up Helly Aa – First Saturday of March (1st March 2014)
South Mainland Up Helly Aa – Second Friday of March (14th March 2014)
Delting Up Helly Aa – Third Friday of March (21st March 2014)
If you've ever, like me, dreamt of time travelling and wondered what it would be like to slip through time just for a day or so, now is your chance. Pack your warmest attire and a torch light, and jump on a plane or ferry to Shetland where a wild, 24-hour partying marathon and loads of #brilliantmoments awaits you in the company of definitely more friendly than fierce 21st century Vikings.
Learn more about Shetland's Nordic heritage, the islands' fascinating history and the sheer variety of the region's archaeological sites. Getting to and around Shetland is easier that you can imagine and there's a great choice of accommodation to suite every budget and taste.
A member of the Uyeasound Jarl Squad,
The night time procession of Up Helly Aa in Lerwick, Shetland
The night time procession of Up Helly Aa in Lerwick, Shetland
For those visiting Shetland in February who are disappointed to find they missed Up Helly Aa in Lerwick during January, never worry! The months of February (and March) are dominated by rural Up Helly Aa Celebrations! These smaller fire festivals all have a friendly atmosphere and slightly different customs though all involve Vikings and the setting of a Viking Galley on fire!
Nesting and Girlsta Up Helly Aa take place 10 days after the Lerwick event on Friday 7th February. The squads meet at the South Nesting Hall at 1900 and at 1930 a flare is set off and the torches are lit. The torchlit procession moves through Nesting towards the burning site (opposite the Old School). The squads form a circle around the galley and throw their torches into it, singing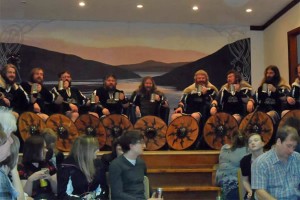 and then dispersing to the South Nesting Public Hall, the North Nesting Public Hall and the Whiteness and Weisdale Public Hall for an all-night ceilidh!
Uyeasound Up Helly Aa (on Unst) is held on the second Friday of February (14th February 2014) Guizars meet at the Uyeasound Galley Shed before moving off in a procession of fiery torches to the burning site on the beach opposite Easter Loch. Later on the Guizers entertain revellers in Uyeasound Public Hall.
Northmavine Up Helly Aa is held on the third Friday of February (21st February 2014) and is the most northerly mainland fire festival. The Squads of Guizars form a procession of firelit torches which travels from the Hillswick Hall along the main road to the loch at Urafirth. The Up Helly Aa songs are accompanied by a brass band and the galley is left ablaze on the water. Celebrations continue for the rest of the night at Hillswick Hall, Sullom and Gunnister Hall, Ollaberry Hall, North Roe Hall and Lochend Halls!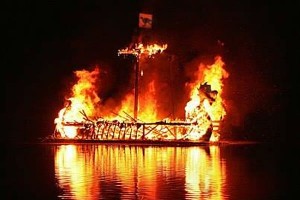 Bressay Up Helly Aa takes place on the last Friday of February (28th February 2014) and on Bressay they have two galleys! One is pulled around the isle and the second is burned. Festivities carry on late into the night in the Bressay Hall.
Finally Cullivoe Up Helly Aa takes place on the same date (28th February 2014) and begins at the Cullivoe Hall from 1900 with the light-up at 1930. The Guizers, led by the Jarl's Squad, march the galley from the hall to the marina, before setting her alight and floating her out to sea alongside the Cullivoe breakwater. Celebrations continue until the early hours at Cullivoe Hall!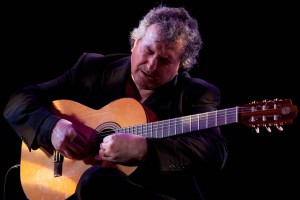 There are other events in Shetland in February that don't involve setting fire to anything!
Hailed by The Guardian for his exquisite guitar playing, Eduardo Niebla will be in Concert playing flamenco jazz in the Hillswick Hall, Northmavine on Tuesday 4th February 2014. In Mareel on Thursday 6th February two of the best folk musicians around – Ross Ainslie and Jarlath Henderson – will be playing new and original compositions along with traditional tunes.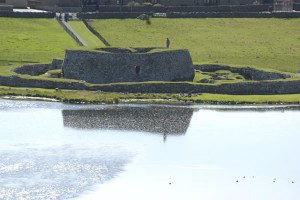 If you're looking for somewhere to visit in February, why not try Clickimin Broch? Sitting on the outskirts of Lerwick next to Clickimin Loch this restored Iron Age broch is large and well preserved. Here are some interesting facts about Clickmin Broch you maybe weren't aware of!
Clickimin Broch was built on an island in Clickimin Loch and was approached by a stone causeway. The water level of the loch was reduced in 1874 leaving the broch high and dry!
The broch was occupied from 1,000BC to 600AD. It began life as a small bronze-age farmhouse before being developed into an defensive Broch around 100BC.
Clickmin Broch was originally up to 12-15m high and provided accommodation and shelter for a significant number of people.
There is a slab of stone with two footprints carved into it on the causeway leading to the broch. The meaning of this is unknown.
Unusual for a broch – a blockhouse was built inside the only gate as additional defences. Originally much taller than it is today, it was never finished.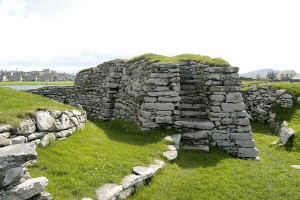 Clickmin Broch has free entry and is easy to get to, on foot or by car – it's right across the road from a supermarket! When you're in the area take a look along the coastline here as seals and otters can often be spotted! There's always plenty to see and do in Shetland – even in February!
Previous MonthNext Month